May 30, 2017
4:52 am
RubySue
Forum Posts: 13
Member Since:
April 3, 2017
Offline
For our 2nd trip we took RubySue to visit our grandchild for the weekend at Fairystone State Park. A beautiful place.
Turned out to be a learning trip… In prep, we discovered the battery was run down (that was quick). Had it on the list to add a battery disconnect, but hadn't gotten around to it. Removed & recharged the battery & made the mistake of crossing cables when hooking it back up. Spent time chasing gremlins on/off all weekend – as 12v stuff ran fine til the battery ran down again…, with the hint of an issue being the propane/carbon monoxide detector going off, lights dimming & scaring us to death.
Others in the park had electrical issues, so we thought the park was contributing to our issues – confusing the issue. Took a while to figure out, that ours were self-inflicted.
Issues hit this trip, mostly as a result of crossed-cables:
– Troubleshot & replaced 3 15A (blue) fuses to get 12V stuff working (lights, etc)
– Troubleshot & Replaced 2 ?A (orange) fuses to get battery charging working
– Removed the stereo to replace a 10A? Fuse in the back of the stereo to get it working
– Out of propane – when the alarm went off we switched to the second bottle (which lasted a couple hours before the alarm went off again). Troubleshot & discovered we had only got one full propane bottle from the dealer. Made a run to town for propane.
– No hot water – between run down battery, no 12v systems, & low propane…
– Added a keyed battery disconnect to prevent this in the future
–
While frustrating, the good news is: we now understand all systems. Am glad it happened, close to town. I'd recommend adding an assortment of fuses to your toolbox.
Despite this, we did have time for good times.
Nestled in the woods at Fairystone:

Restored Shell station in Fieldale, VA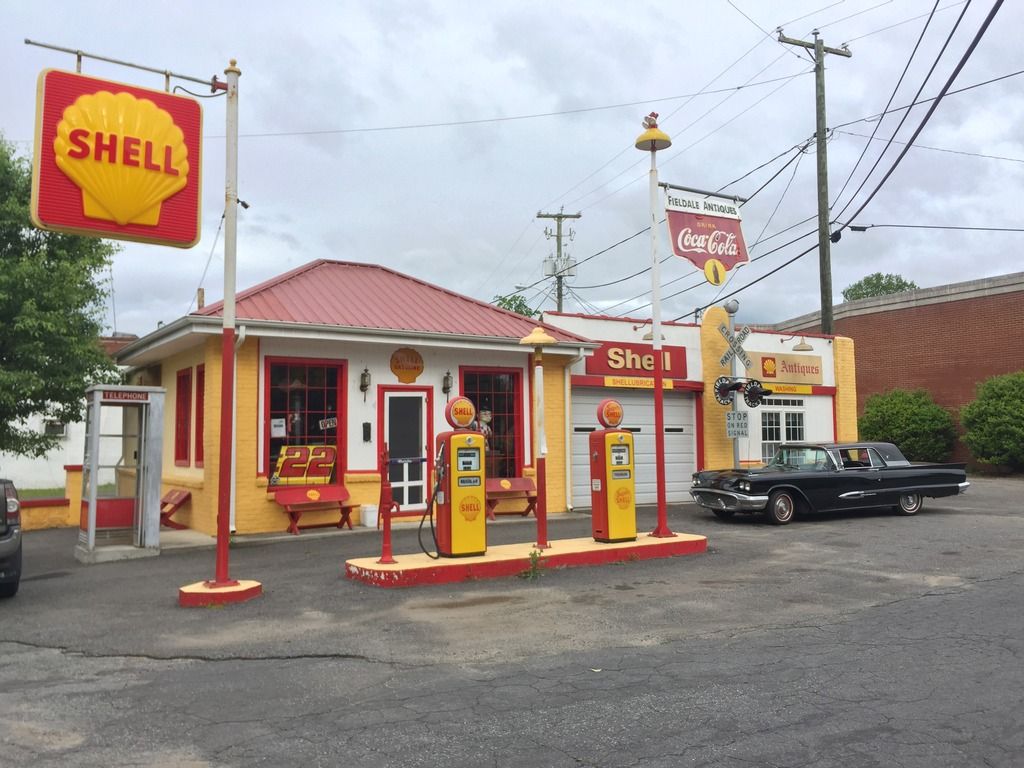 Forum Timezone:
America/Denver
Most Users Ever Online: 177
Currently Online:
3 Guest(s)
Currently Browsing this Page:
1 Guest(s)
Top Posters:
A.J.: 89
Alabama Jim: 54
mrseo12: 46
TanishaLambertson: 23
mkevenson: 22
Perrypridgen: 20
markstevens: 19
thatchick1120: 18
DAVID555: 18
amber_bowers: 17
Member Stats:
Guest Posters: 0
Members: 1156
Moderators: 1
Admins: 1
Forum Stats:
Groups: 5
Forums: 24
Topics: 396
Posts: 1395
Newest Members:
entranceielearning, hewettmr, Mitchell, LoisFletcher, Riley555, jjimjohn1, shawnkemp, Geremy, CraigMills, RyanHarper
Moderators: Roccosamore: 119
Administrators: Kristopher: 190